The Secret Rooms – A True Gothic Mystery – Catherine Bailey
Hardcover: 480 pages
Publisher: Viking (1 Nov 2012)
Source: Amazon Vine
My Rating: 5 stars
I don't usually read a lot of non-fiction but something about this story really drew me in and, to use that well-worn cliche, "you couldn't make it up". From a daunting mountain of documents, Catherine Bailey has succeeded in excavating an intriguing and involving true story of one man's life – a very sad story emerges as she fills in the gaps in the life story of John Manners, the 9th Duke of Rutland.
This is a very detailed and extremely well researched account which highlights the immense power held by the Manners family – power which is abused by Violet, John's mother, who is portrayed as a manipulative matriarch, determined to safeguard the future of the family line, at any cost. Could duty to one's family possibly override duty to one's country at a time of war? When you don't have the luxury of "an heir and a spare" does the end justify the means?
Despite John's efforts to cover up events, he hadn't reckoned on the tenacity and investigative skills of Catherine Bailey. It makes you feel quite sorry for some of the aristocracy although that is tempered a lot when you consider the immense numbers of Rutland estate workers who died in the trenches during the Great War. A very engaging and eye-opening read.
Belvoir Castle today
John, 9th Duke of Rutland and his wife Kakoo (Kathleen)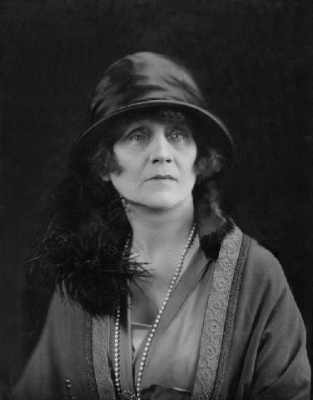 The Menacing Mama!